Since Ivymount's founding in 1961, the individuals who joined the board of directors have volunteered their time and contributed their resources to ensuring that the organization thrived and grew in responsible ways.
The original board was established for the Christ Church Child Center, Ivymount's first home. Today, there are separate boards for the School, the Corporation, Outreach Programs, and the Ivymount Foundation. From the very beginning, board members have overseen governance, approved budgets, and advised on growth. They have provided expertise to consider and approve programmatic and capital projects that came to define the expansion of the school and its affiliates. This included the addition of The Maddux School, Outreach Programs and professional services, as well as the Early Childhood Clinic.
They have also served as spokespersons to political and business leaders, represented Ivymount at special events and school-based activities, and provided guidance during exceptional circumstances, such as the pandemic.
A strong and committed board is essential to the health and welfare of an organization. Today's four boards include many current and alumni parents, along with others from legal, medical, scientific, business, and other professions, who share a passion for supporting families and improving special education. They're vital to the organization's oversight, governance, fundraising, and long-range planning.
Ivymount has had, and continues to have, a remarkable group of volunteers who are dedicated to its mission and its future.
Learn more about Ivymount's leadership & boards of directors.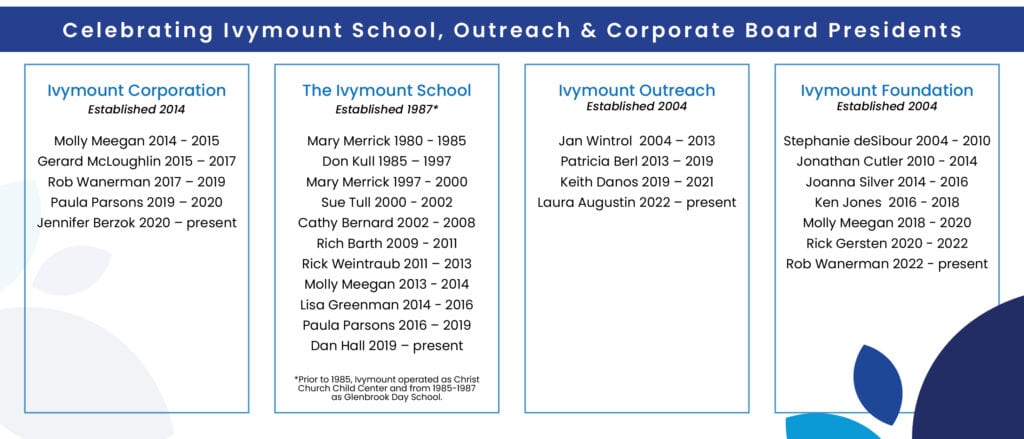 To support Ivymount in moving forward with momentum and transforming the lives of students and families, click here.