Join Us at the Resource Fair!
As we celebrate six decades of Ivymount, we're excited to host our 10th annual Outreach Resource Fair. The fair will feature dozens of exhibitors from around the DC region that provide services and resources to children and young adults. Scroll down to see a list of registered exhibitors.
Sunday, March 19
12 pm – 3 pm
Ivymount Campus
11614 Seven Locks Road, Rockville, MD 20854


Complimentary Workshops
Ivymount experts will also lead complimentary workshops on topics such as transition to adulthood, neurodiversity, importance of exercise, and how to find effective services.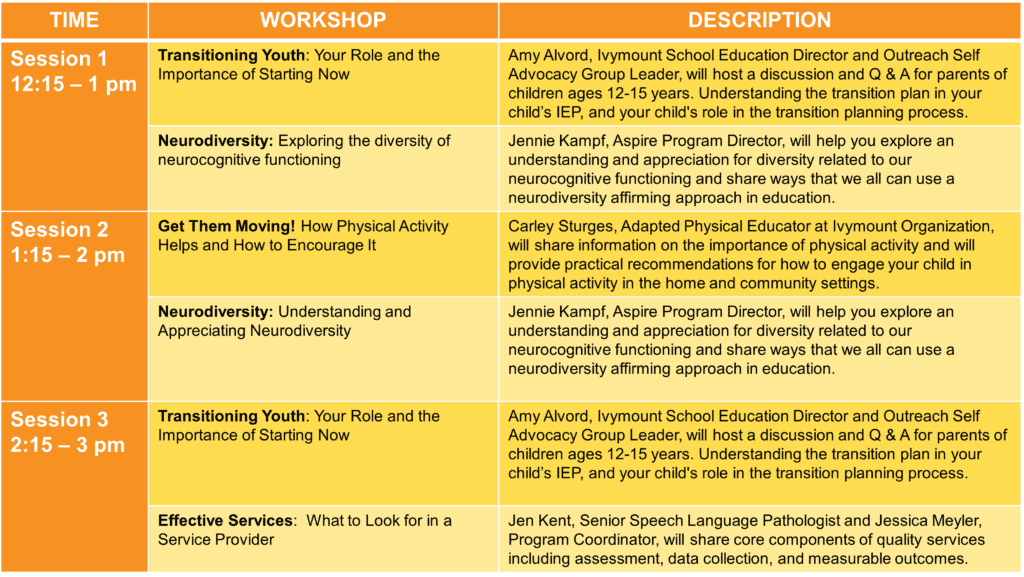 2023 Outreach Fair Exhibitors
21Next Communities
ACEing Autism, Washington
Adaptive Movement
ArtStream
Ascend Ed LLC
Behavioral Framework
Best Buddies VADC
College Living Experience (CLE)
Cura Personalis Project Inc.
Easterseals Camp Fairlee
Helping Hands Family
Inclusive Movement and Dance, Inc.
Integrated Living Opportunities
Ivymount Community Outreach & Services
Ivymount Endeavors Outreach
Ivymount School
Jill's House
KEEN Greater DC (Kids Enjoy Exercise Now)
Little Leaves
MANSEF
Maryland ABLE
Maryland Coalition of Families
Maryland Insurance Administration
Melwood
M-NCPPC, Montgomery Parks
MOCO Movement Center
Motion Education
Music for Autism
MyPad (a service of Makom)
NFP
Only Make Believe
Partnership for Extraordinary Minds (xMinds)
Planning Across the Spectrum
Potomac Community Resources, Inc. (PCR)
Project SEARCH
Promise Landing Farm
SPIRIT Club
Stepping Stones Therapy
Summit Camp
Team Up for 1 Foundation
The Benedictine School
The Chesapeake Center for ADHD, Learning and Behavioral Health
The HSC Pediatric Center's Kids in Action Program
The Maddux School
Verbal Beginnings
Washington Behavioral Medicine Associates, LLC
Weinfeld Education Group
WyattWear